DIY Graduation Gift Idea
|
*I use affiliate links
In a few weeks, I get to watch one of my nieces graduate from high school. She is number 5 to graduate over the last few years. It is so amazing to me how much they all have grown up and started their lives.
A Graduation Gift I Loved
I graduated as a homeschooler back in 2000. A few people gave me some nice gifts to celebrate the day. Most people sent me a check or handed me a card with cash in it.
There was one lady in particular that put together a gift I still have. Next to the diamonds that my parents gave me, this was favorite.
At the time, the Sacagawea Coins had come out. Those were worth a dollar a piece. She gave me 20 coins and placed them in a handmade bag. Then she tied a simple gold cord around the bag.
Can I just say- that gift stole my heart! I've never spent those coins. Instead, I've incorporated that gift into the decor of you my home, as well as used it to set up for photography and still life.
DIY Gift For Grads
I always try to give unique or handmade gifts for holidays and celebrations. I'm kind of known for my crafting skills in my home. I will be a little bit honest with you- this year I have a lot going on over the next few weeks, so my ability to get super creative is not going to happen.
That is why I was really excited to see this Graduation Kit come through from The Dating Divas.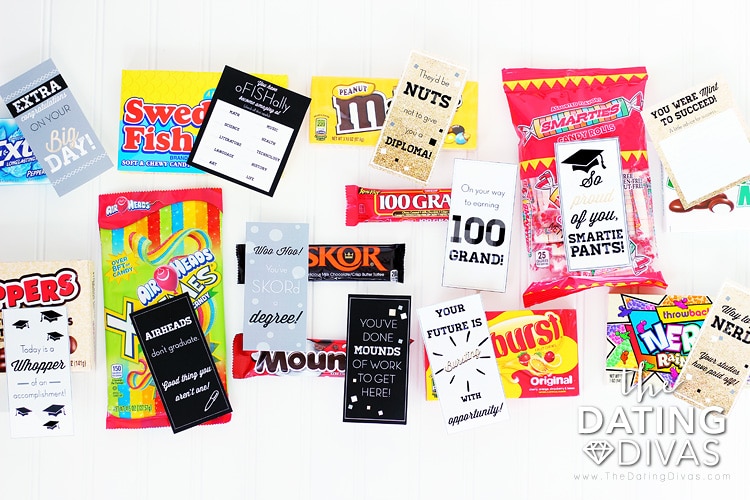 Printables For The Graduate
When you buy this kit, you will be able to print out the cute tags to put on different types of candy. It also has a tag for the basket that I thought was super cute. It says, "The tassel was worth the hassle".
Not only do you get the tags to put together a gift basket, but there are also printable yard signs and notebook pages for a keepsake album. Print off the pages ahead of time and ask people in their life to write them a note.
If you are looking for a unique, but simple gift idea, this is definitely worth buying. The cool thing, is that if you buy it before April 30, 2016, they will donate part of the proceeds to the Shine Project which helps inner city kids and teens.
For those of you like me, who have a graduation to attend this year, I think this makes for a really unique gift for the grad.