DIY Valentines Day Gifts For Him
|
I really love Valentine's Day. In fact, my house has been decorated for the holiday for almost two weeks. I know that is pretty early, but I really like being reminded that to love those around.
When it comes to gifts for Valentine's, I'm usually pretty simple with what I do. If you are someone who likes to craft, though, I put together a few DIY Valentine's Day gift ideas for the man in your life.
Valentine's Basket
My friends got married last year close to February 14. It was perfect timing for me to find a lot of hearts and love themed gift items for them to take on their Honeymoon.
To put together your own basket you will need:
Two wine glasses (plastic or glass)

Sparkling cider (or your favorite drinks)

Valentine's candy

Candles
You can put whatever you like in this basket. This is the exact type of gift I'm most likely going to give Austin to celebrate.  
A Pail of Worms
With this cute pail of worms he will be sure to be hooked on you. Get a bucket of your choice and fill it with gummy worms. Write a love note and stick it in the bucket with the gummy worms.
Type up a fun, "Hooked on You" note or print it off. Tape the note on the outside of the bucket. You can pair this with a homemade fishing pole and ask him if he wants to go "fishing" later on.
Stud Muffin
He'll feel like a real stud when he receives this muffin. Bake up a batch of his favorite muffins and place them in separate bags. Attach a note at the top of each bag that says, "Stud Muffin". Place the muffins in a basket and deliver them to his place of work, or leave them out on the counter for when he comes home.
Five Senses Kit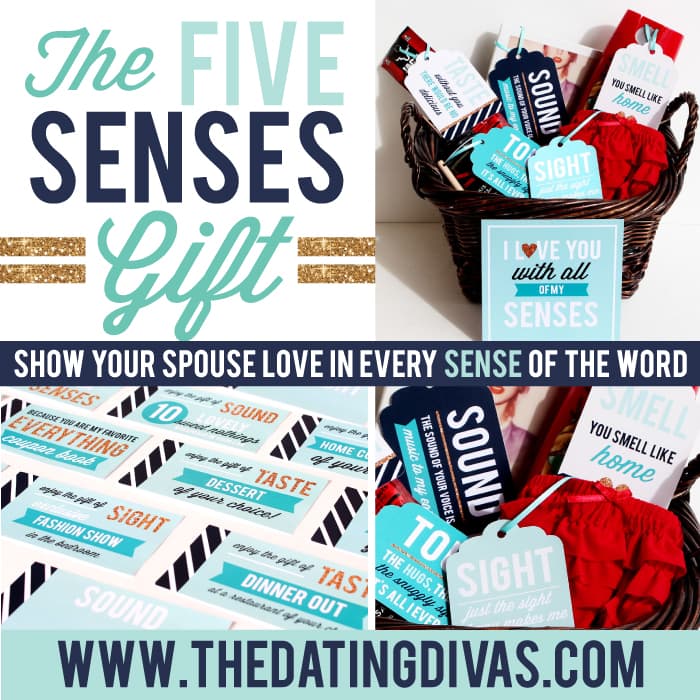 Here is another great idea from The Dating Divas. They have printables that will help you come up with an idea of how to tantalize his five senses. It costs $5 for this set and you get the tags plus love coupons that you can print off.  Feel free to visit my affiliate link to check out this great idea.
U Da Man Chocolate Bars
Let him know that he's da man with these cute printables. Print off candy bar wrapping papers that say udaman. Wrap up his favorite candy bars with the wrappers. Attach the candy bars to small wooden dowels and put them in the form of a bouquet. Wrap tissue paper around the dowels and attach a sweet note to the bouquet of udaman candy bars.
Love Jar
Cut out twenty to thirty small hearts in pink and red. Write sweet phrases on each heart of the things you want to say to your guy. You can write things you love about him, memories you have shared, or terms of endearment.
Fold each heart in half and stick them in a glass jar with a lid. Decorate the lid and put a note on the outside of the jar that says, "Love Jar". Encourage him to pull a heart out whenever he needs to hear a word of love from you.
Love Coupons
I thought this was a cool idea on the FTD blog. They have free printable love coupons that you can give your hubby. Some of the things that they put on the coupons made me laugh, like your spouse having control over the car radio for a day.
Valentine's Mad Libs
You know I love The Dating Divas. This is such a cute free printable. Print off these free silly mad libs and ask him to give you answers to fill in the blanks.
This activity is sure to bring you both to laughter as you read out the funny story he created. Pair this gift with a dinner at home or out on the town and you are certain to have a blast.
The Calendar of Love
Print out a blank calendar with the phrase, "Calendar of Love" at the top. On each calendar day, write a fun activity that you and your guy can share together.
These activities can be simple such as, share a cup of coffee together, reminisce about old times, or snuggle on the couch. Add a different thing for you to share together each day. Be as extravagant as you like.
I hope this helps you get a good idea of what you can do for your sweetie this year. If you like DIY craft projects, these are simple, yet really cute.
*this post contains an affiliate link