I'm Having a Hard Time Getting In The Mood For Fall But This May Help
|
*I use affiliate links

Fall is my favorite time of the year, but I'm having a hard time getting in the mood for it this season. It probably has something to do with the hot temperatures that we experience in the south.
Well, I think I've found my cure for not feeling excited about the fall. The Dating Divas put together an Ultimate Fall Bundle that is full of printables that are perfect to get me in the mood.
What's in The Ultimate Fall Bundle?
There are over 20 printables in this pack that are being offered by many different fabulous bloggers. I took a look over the pack and some of my favorites include-
The printable wall art- totally cute fall prints.
Gratitude journal pages- put together journals for your whole family where they can write down things they are thankful for.
Babysitter in a bag- this is a fun idea. The Divas give you a babysitter kit that you can give the sitter when they come to watch your kids.
Year of sporty dates- these are date night ideas featured around sports for every month of the year.
This is just a small taste of the bundle. If you want to read the other things that they are offering, be sure to check it out on their site.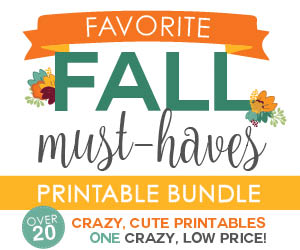 Three Day Sale
The sale is only for 3 days and each day the price of the bundle rises. Here's the price schedule-
September 21- $15
September 22- $18
September 23- $20
After that- it's gone forever
Special Bonus
Just as a special bonus to my readers, if you purchase this pack, I'll throw in my own set of cute marriage printables. I have a pack of 10 printables that I'll send you for free if you buy this bundle. Just send me an email at Keelie@lovehopeadventure.com and let me know that you purchased this deal.