For those of you who don't know, I modeled Love Hope Adventure after The Dating Divas. In fact, the very first bedroom game that Austin and I created was long before I started this blog. That game came as an idea that I got on The Dating Divas.
Now, I'll go ahead and be honest with you here, there are only two blogs that I follow and The Dating Divas is the other. I don't read that much, but I read everything these ladies put out.
They have put together 12 already done for you date nights with printables. I bought this pack and have really loved it. You can check out one of the dates in the pack in this post- Hot Hot Hot Twister bedroom game.
They put out a YouTube Video that you can check out where they explain everything that is in the pack. Go here to check out that video.
You can purchase this pack here-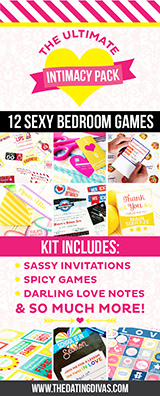 I wanted to put together something special for you so, I have two pdf's that you can download for free of different sex positions you can try. I didn't show pictures in these pdf's, but I tried to explain the positions as best as possible. If you feel confused, just send me an email and ask me your question. I'll be glad to answer as best as I can.